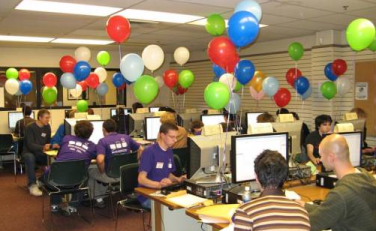 Welcome to the Pacific NW Region Programming Contest! The Pacific NW Region is comprised of the following areas: Alaska,

Hawaii,

British Columbia, Washington, Oregon, northern/central California and western Nevada. Because of the large geographic area of the region, the contest is held simultaneously at

multiple

sites: Northern California, Northwest (Oregon), Northeast (E. WA and Idaho),

Puget Sound (Western Washington), Canada, and Hawaii.









Announcements
Final Standings, Solutions, and I/O Posted. See the Results Tab

Top 10 for each division as well as site winners shown below.

There were two divisions this year!
We supported Python in this year's contest. While Python is not yet supported in World Finals, based on feedback from you, we have decided to add it. We will support Python 2.7.6 and 3.4.0.

IMPORTANT NOTE

: In the future, if you are interested and capable of hosting, please contact the regional director at: tcapaul@ewu.edu or director@acmicpc-pacnw.org. Costs of the contest (food, t-shirts, balloons, etc.) are covered by the PacNW region. As a host school your teams participate for free.
---
---
Learn More
---
2014 PacNW Contest

Locally Sponsored by:


Primary Sponsor




Also sponsored by

















The Top 10 (Div I):
1

Berkeley Blue (UC Berkeley)

2

Stanford White (Stanford)

3

Berkeley Gold (UC Berkeley)

4

UBC# (U British Columbia)

5

Eternal Flame (U of Washington)

6

Stanford Cardinal (Stanford)

7

Stanford Band (Stanford)

8

Olia in UW (U of Washington)

9

Amgems (U of Washington)

10

Stanford Red (Stanford)

The Top 10 (Div II):

1 Berkeley Radicals (UC Berkeley)

2

the probebolistics (U of Oregon)

3 UBC^ (U British Columbia)

4 Ursi (UC Berkeley)

5 UBC& (U British Columbia)

6 UNBC Forked (UNBC)

7 Virtual Apothecary (WWU)

8 UNBC Stacked (UNBC)

9 WWU Gustav's Jesters (WWU)

10 PLU-1 (PLU)






2014 Site Champions:

Northern California
Northwest (Oregon):
Puget Sound (Western Wash):
Canada (BC):
Hawaii:

Div 1:

00FF00 (Hawaii Pacific)

Div 2:

FF0000 (

Hawaii Pacific

)

Northeast:




THANK YOU to our wonderful 2014 site director volunteers:


Simon Fraser University - Binay Bhattacharya
University of Puget Sound - Adam Smith
George Fox University - Brent Wilson
University of San Francisco - Peter Pacheco
Brigham Young University, Hawaii - Geoff Draper
Eastern Washington University - Steve Berg



If you still have questions or require special information not found here, email the contest director:

---